Big swings in UK digital ad spending by industry, but retail pulls ahead; Our relationship with cable, counting co-viewing, and a new Paramount+/Showtime bundle
The UK's digital advertising industry weathered the pandemic remarkably well. Among the industry sectors we track, digital ad spending will rise across the board (which was not universal last year), but these growth patterns will fluctuate wildly across categories.
In 2020, digital spending increased 8.0% and will rise another 16.8% this year to £19.23 billion ($24.66 billion), cementing the UK's position as the largest market for digital ad spending in Europe. For the first time, digital will account for more than three-quarters of total UK media spend this year.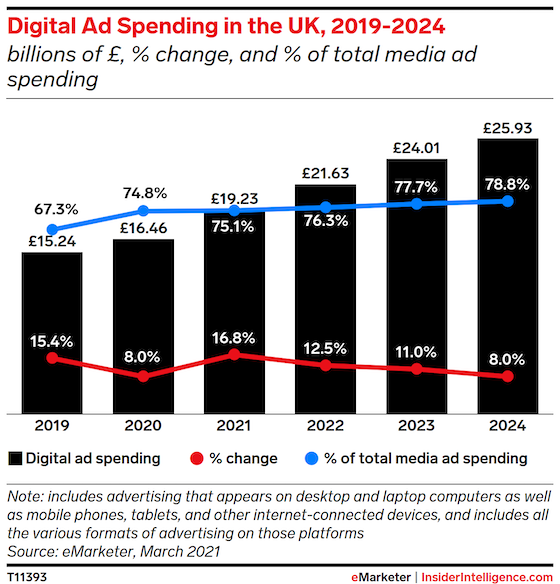 Despite some deceleration through to the end of our forecast, gains will still be significant each year, with digital's share approaching four-fifths of all spend in 2024 at £25.93 billion ($33.26 billion).
Looking at the breakouts of spend across industries, though, the pandemic heralded something of a rollercoaster ride. Ad spending growth was relatively even across the board in 2019, but we saw massive declines in 2020 for some segments like travel (-51.0%) and huge growth for others like computing products and consumer electronics (38.8%).
Read the full article.
The Life of the Mobile Gamer

Go beyond mobile gamers' habits and preferences as players and learn how they act as consumers with AdColony's latest research. Explore how mobile gamers engage with advertising in games and apps, what drives their purchasing decisions, how the pandemic has reshaped their shopping habits, and much more.

Download the report
Webinar: How Loyalty Can Start with a Text

Learn how text messaging can drive revenue, engagement, and build community. Hear how People magazine and Williams-Sonoma leverage SMS marketing to mirror consumer interests, needs, and more. Join eMarketer's live Tech-Talk Webinar, presented by Community.

Register Now
Webinar: Why You Should Think National, but Buy Local
Ad targeting, data reporting, and attribution capabilities have changed local media buying strategies. Learn how local market buying can be key to a profitable, successful nationwide campaign. Join eMarketer's Tech-Talk Webinar, presented by New York Interconnect. Register now.