TikTok's Magnitude; Facebook Still Reigns; Netflix Viewership in Latin America
First, we take a look at Netflix's strong growth in Latin America.
Though Netflix increased the cost of its subscriptions worldwide, the price hikes didn't have an equal effect everywhere. While much has been written about the company's loss of US customers in Q2 due to costlier subscriptions, we estimate that Netflix's viewership growth in Latin America will remain strong.
We forecast that this year, the Netflix audience in Latin America will increase by 26.4% to 70.1 million users. As the company continues to offer more local content, we expect this number to rise to 88.2 million by 2023, when 13.4% of individuals in the region will regularly watch Netflix.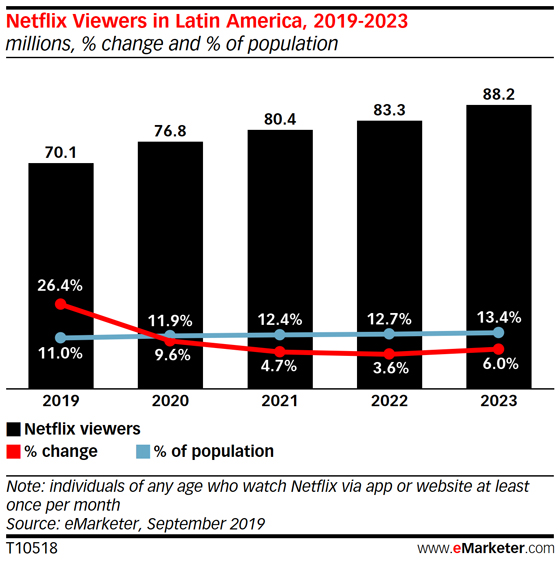 Read the full article.
Retail marketers need more than features - they need results

Listrak is an integrated marketing platform built for retailers to drive results: increased engagement, revenue and loyalty at every point of interaction.

Find out how
Podcast: Is the TikTok Craze Sustainable?

eMarketer principal analyst Debra Aho Williamson and junior analyst Blake Droesch explain whether people (and advertisers) should get excited about the new social media phenomenon TikTok. They also discuss Instagram's new messaging app Threads, Facebook's potential rebrand, Snapchat's new dynamic ads and more. Listen in.
Proven Guide - How to Build a Case for a CDP

As you plan for 2020, use this guide to help you make the case for adopting a customer data platform. It provides practical advice based on the experiences of marketers who are already using a CDP today and conversations with leading industry analysts.

Get your guide