US TV Upfront Ad Spending Will Fall $5.5 Billion for 2020-2021 Season; The Facebook Ad Boycott Picks Up Steam
US upfront TV ad spending will decline 1.4% in the 2019-2020 season to $20.28 billion, and drop a substantial 27.1% in the 2020-2021 season to $14.78 billion, a $5.5 billion difference year-on-year.
This is a significant change from our pre-pandemic estimates, when we expected to see single-digit growth for both seasons at 2.3% and 1.8%, respectively.
The revised figures reflect about $1 billion less in spending for the 2019/2020 season and about $7 billion less for the 2020/2021 season, compared to our April 2019 forecasts.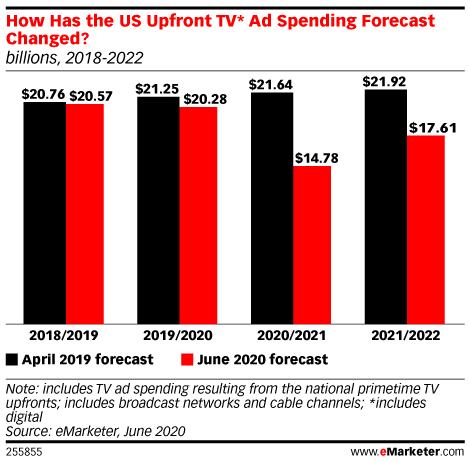 Read the full article.
[Webinar] Customer Experience amid the Pandemic

Learn how the pandemic is shaping the customer journey in 2020. Join eMarketer's live Analyst Webinar, sponsored by Snowflake, to learn how to create holistic experiences across channels and gain valuable insights from successful case studies on these initiatives.

Register Now
Podcast: The Facebook Ad Boycott Picks Up Steam

eMarketer principal analysts Debra Aho Williamson and Nicole Perrin and forecasting analyst at Insider Intelligence Eric Haggstrom discuss the different Facebook boycott camps advertisers fall into, the potential damage to the social media giant and what happens next. Listen in.